Economics for a Sustainable World
| | |
| --- | --- |
| ✅ Paper Type: Free Essay | ✅ Subject: Economics |
| ✅ Wordcount: 4402 words | ✅ Published: 12th Oct 2021 |
Table of Contents
Introduction ........................................................................................................... 3
1. Introduction to Xref .......................................................................................... 4
1.2 What does Xref do ....................................................................................... 4
1.3Customers of Xref ......................................................................................... 5
1.3.1 Xref customer Testimonials ................................................................... 6
1.4 Competitors .................................................................................................. 7
1.1.1 Competitors within Australia................................................................. 7
1.1.2 Competitors outside Australia ............................................................... 8
1.6 Xref Market share within Australia ............................................................. 8
1.7 Competitive environment of Xref ................................................................ 9
2. Production Cost and Scale .............................................................................. 10
2.1 Factors of production ................................................................................. 10
2.2 Fixed and Variable costs at Xref ............................................................... 10
2.3 Overall cost structure ................................................................................. 11
3. Macro business environment .......................................................................... 11
3.1 Political stability within Australia ............................................................. 11
The level of Inflation, unemployment and Interest rate within Australia ....... 12
3.2.1 Unemployment rate ............................................................................. 12
3.2.2 Inflation rate ......................................................................................... 12
3.3.3 Interest rate .......................................................................................... 12
3.3 Impact of exchange rate on Xref's international trading ........................... 13
Sustainability practice of Xref ............................................................................ 14
4. Conclusion ...................................................................................................... 15
Introduction
Economy is referred to the study of how society chooses to allocate its scarce resources to the production of goods and services in order to satisfy unlimited wants. The economy can be sub categorized into two as Micro economics and Macroeconomics. Microeconomy represents the decisions made by single individual, household, firm, industry or level of government. On the other hand Macro economy referred to the decisions made for the economy as a whole (Layton, Robinson & Tucker, 2016).
The following business report conducted on behalf of Xref Pvt Limited, which is software development company based in Sydney Australia, will provide an overview on the Micro and Macroeconomic fundamentals involved within the economy under the following aspects.
1. Micro business environment
a) Competitive environment in which the company operates.
b) Production cost and scale.
2. Macro business environment
a) Political stability.
b) Interest rate, Inflation rate and unemployment rate fluctuations.
c) Impact of Exchange rate.
d) Sustainability practice of the business.
1.1 Introduction to Xref
Xref is a software service provider, founded in 2010, by the current directors Lee Martin Seymour and Tim Griffith. The head office of Xref is located at Sydney and other offices are situated at London, Toronto and Norway respectively ("Xref", 2019). Xref developed and introduced an automated reference checking system to the HR and the recruitment industries. Xref technology will boost the hiring efficiency by streamlining the reference gathering and interpretation process, and will deliver a seamless experience through significant time and cost saving.
1.2 What does Xref do
As shown in the figure 1, the Xref process involves, four steps to increase efficiency and the quality of the reference checking process. They are,
1. Employer will request for a reference from the candidate.
2. Candidate will then submit the reference details.
3. References will provide their details and feedback.
4. Finally the employer will receive the completed reference report.
Figure1- Xref Automated process ("Xref", 2019)
This is considered as a much more secured, convenient and streamlined process of clarifying reference details than the traditional way of phone based conversations which sometimes leads to discriminative situations or often consume more time to contact the referee during work hours.
1.3 Customers of Xref
As of Xref annual report 2019, the active client base of Xref has rapidly grown with 915 clients currently using the platform directly. As shown in the figure 2, 65% of their sales are contributed mainly from 8 industry sectors where as HR & recruitment industry been the main customer ("Xref", 2019).
Majority of the Xref customers are located within Australia, which counts to 80% of their annual sales including 20% of the top 50 ASX companies. Apart from Australia, Xref customers are located in Newzealand, North America and Europe. The figure 3 shows how much of sales contributed by each region, and the locations of Xref customers ("Xref", 2019).
Figure 2: Overseas locations and sales by regions ("Xref", 2019).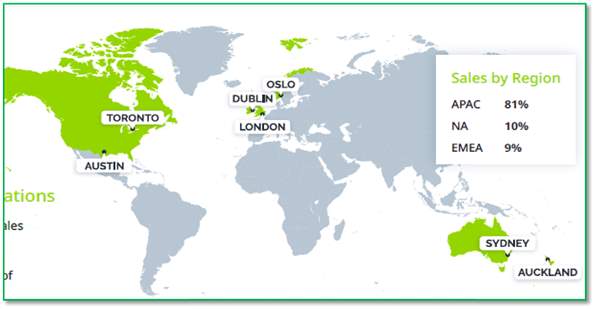 Figure 3: Industry sector by revenue ("Xref", 2019).
1.3.1 Xref customer Testimonials
Figure 5: Xref customer testimonials ("Xref", 2019).
1.4 Competitors
As per the ratings and customer reviews it is evident that there are few other reference checking service providers in the market, whom users will choose over Xref or choose as an alternative to Xref service, both within Australia and Internationally.
1.4.1 Competitors within Australia
1. CVCheck -Australia
CVCheck is a human resource technology company founded in 2004, which provide automated online checks and verifications to companies within Australia and New Zealand. Not only reference checking, they do provide criminal history check, financial history check and so on. The spread head product for CVCheck was criminal history check ("CVCheck", 2019). People will tempt to go with CV check as they can get done all the checks with one system. Therefore CVCheck is considered both a competitor and a close substitute for Xref.
2. Makesure -Australia
Makesure is a full service background confirmation service provider. Makesure provide its clients with employee background checks, reference checks, criminal checks and so forth. Makesure been an Australian Criminal Intelligence Commission Accredited Broker have the ability to provide nationwide police checks ("Makesure", 2019). Makesure is also considered as a competitor and a close substitute for Xref.
3. Referoo- Australia
Referoo is an Australian start up company launched in 2017, which also provides a complete reference checking system (Referoo, 2019.). Hence due to the lack of experience within the industry and lack of expertise knowledge compared to Xref, it is assumed that Xref holds more of the market share and a bigger clientele compared to Referoo at the moment. Thus Referoo's growth and development could create a competition to Xref into the future.
1.4.2 Competitors outside Australia
1. Skill Survey-USA
SkillSurvey have been operating since 2001, largely in USA within the online reference collection and validation market ("Skillsurvey", 2019). Their product is also very much similar to Xref as they are also an online platform.
2. HireRight- Global
HireRight is a full service background and validation provider. They physically presence in North America, Europe and Asia but provide services globally. ("HireRight", 2019).
1.6 Xref Market share within Australia
Xref falls under the major evolving market which is the software suppliers industry. Software industry contributes nearly revenue of 9bn for the whole Australian economy ("IBIS World", 2018). In order to have a clear view about the market share of Xref, within software industry it is sub categorized by their service which is reference checking system providers.
Find Out How UKEssays.com Can Help You!
Our academic experts are ready and waiting to assist with any writing project you may have. From simple essay plans, through to full dissertations, you can guarantee we have a service perfectly matched to your needs.
View our services
Considering the competition within the Australian market, it can be seen that CVCheck, Makesure and other complete background check service providers and recruitment service providers altogether hold about 60% of reference checking software market. Xref as a specialized software only in reference checking holds 20% of the market. Even though Xref do not provide any other service other than reference checking, through integrations, partnerships and by providing strong analytical information they have been able to conquer a considerable share in the market by 2019. Other small competitors and startup companies such as Referoo are holding the rest of the 20% of the reference checking software market.
1.7 Competitive environment of Xref
By looking at the information gathered so far, the following conclusions can be made regarding Xref's competitive market.
1. The market consist large number of sellers and buyers. Therefore none of the sellers hold the position to influence the price and output.
2. Each firm produce and sell a homogeneous product, and do not contain significant difference from each other.
3. Easily replicable business model. Therefore considerable numbers of close substitutes are available. So if a product becomes expensive a buyer can easily choose cheaper substitute.
4. Any firm who enter into this industry is free to enter and free to exit. There aren't any entry costs or huge switch costs involved.
5. The price of each software is liable to change depending on the demand and supply conditions.
Considering the above factors it can be concluded that Xref Limited is operating in a Perfectly Competitive market.
As per the market prices each candidate's reference checking process will cost about $50 Xref serves large enterprises and small firms. Hence $50 per reference counts to be a small portion of their customer's average income.
Operating in a perfect competitive market, Xref will be a 'price taker' where as it does not have the market power to affect the market price, instead Xref should adjust to take the market price (Layton et al, 2016). Hence the price of Xref process will be the 'equilibrium price' within the market. Been a price taker the demand curve of Xref will be relatively elastic where as the changes in prices will impact on the quantity demanded.
If Xref to maximize their profit, they should mark the price at which their Marginal revenue=Marginal cost. In a perfectly competitive market the marginal revenue is the market price of the product. Therefore Xref product price should be equal to the marginal cost. Whereas the market price of $50 per reference should be equal to the marginal cost of delivering a one reference check. Marking up its price above the marginal cost will lose the competitive advantage and profit maximization ability within a perfect competition market.
2. Production Cost and Scale
2.1 Factors of production
Factors of production used within Xref can be classified as land, labour, capital and entrepreneurship (Layton et al, 2016).
Looking at Xref and its production, the most important and mandatory factor of production for Xref is 'labour'. Employees with knowledge in IT, Software developing, networking, and programming are a mandatory requirement for Xref. Without this special, skilled work force Xref's business model will not be become a reality.
The next most required factor is 'Capital'. Such as computers, printers, smart phones, electricity, routers, building space and all other machines and equipments required to start up the company and to maintain the day to day operations within the company.
In order to maintain the sustainability of the started and developed business model, and if Xref needs to achieve the competitive advantage over their competitors then Xref need to be more creative and innovative with their product. This is where the 'Entrepreneurship' comes into play as a factor of production for Xref. The innovative and cognitive thinking ability of employees and management will determine the success of Xref in the long run.
Land as a factor of production does not make a huge impact on Xref since Xref do not involve natural resources to build their business model.
2.2 Fixed and Variable costs at Xref
The factors of production which were identified above can be classified as fixed cost and Variable cost
Looking at the labour factor, the cost of labour at Xref will remain constant even the output varies since it is not practical to trace the cost to a specific act of production. If Xref fail to sell their system to anyone, at the end of the month still the labour cost will have to be paid out in order to carry out the further developments and to provide constant customer services related to their products. Therefore labour cost at Xref is a fixed cost.
When it comes to cost of capital, the utilities such as electricity, Internet, and telephone calls will count as variable costs as they will vary with the level of output and the no. of hours that the employees will have to work.
Apart from that the cost of plants and equipments will remain fixed as their cost will not change according to the level of output.
The cost of entrepreneurship could be a one off cost. It could be paid out as an incentive to particular person team or for the whole company depending on the success of the innovation. Therefore the cost of entrepreneurship is considered to be a variable cost.
2.3 Overall cost structure
Looking at the overall cost structure within Xref, that is the Total foxed cost (TFC) and the total variable cost (TVC), it can be assumed that TFC portion within Xref is higher than the TVC as most of the costs are classified as fixed costs. Therefore Xref may achieve higher margins as sales level increase, since the fixed costs will not increase even the revenue increased. On the other hand the margins may also reduce if production and sales decrease.
As the firm matures and the demand for Xref keep increasing every year, Xref has gradually transformed itself from small scale company to a medium scale company by diversifying cost through expansion of operations to international markets and promoting sales through integration and partnerships. This is more beneficial and advantageous with their current cost structure as it will allow Xref to enjoy higher margins. Therefore the optimal size of Xref by 2019 can considered as 'medium'.
3. Macro business environment
3.1 Political stability within Australia
As Xref is mainly located within Australia it is important to look at the political situation prevailing in Australia to forecast the Xref's sustainability in to the future. Hence Australia consist a stable and open regulatory system, literally making Australia a preferable and safe destination for investors. As shown in figure 7, Australia's regulatory environment is one of the world's most transparent and efficient, and is highly conducive to entrepreneurship ("Australia Economy: Population, GDP, Inflation, Business, Trade, FDI, Corruption", 2019). Adoptability of Australian government to economic changes is also highly rated. Therefore Australia is considered as a country with a safe political stability.
Figure 7: Regulatory efficiency within Australia ("Australia Economy:
Population, GDP, Inflation, Business, Trade, FDI, Corruption", 2019).
3.2 The level of Inflation, unemployment and Interest rate within Australia
3.2.1 Unemployment rate
As per the CEDA report the Australian economy looks to have grown by 2.75% to 3% in 2018. This growth was enough to make a significant improvement in the labour market. Hence the unemployment rate ended up with 5.4% typically equal to full employment (The Committee for Economic Development of Australia, 2019). With the favorable labour market trend into the future, the unemployment rate is assumed to be around 4.75 or slightly less than full employment and the lift in wages growth will also remain to continue into the future.
3.2.2 Inflation rate
According to the Reserve Bank of Australia the target of Australian monetary policy is to keep the inflation at a level of 2%-3%. Even though inflation was assumed to be high with the improvement in the labour market the inflation rate remained low at a rate of 1.9% in the year 2018. It is expected to grow to the RBA's target level at least by second half of 2019. (The Committee for Economic Development of Australia, 2019).
3.3.3 Interest rate
The Reserve bank continued to hold interest rates steady at a cash rate of 1.4% throughout 2018, helping dampen the Australian dollars response to the rising terms of trade (The Committee for Economic Development of Australia, 2019) However on October 2019 it was announced that Reserve Bank of Australia(RBA) has decided to cut the official interest rate by 25 basis point to 0.75 % in order to support employment, income growth and to achieve the targets of inflation and full employment ("Reserve Bank of Australia", 2019).
With the low level of unemployment, economic growth and the government expansionary monetary policy with cut off in interest rates indicates that the economy within Australia is currently facing an "economic boom".
3.3 Impact of exchange rate on Xref's international trading
As Xref's customers located in Northamerican and European countries, the fluctuations in the exchange rate could make either positive or negative impact on the future sales and trading.
Australia's macroeconomic stability was mostly supported by the country's flexible exchange rate policy. The current level of exchange rate holds at a rate of, 1 AUD= 0.6843 USD ("Reserve Bank of Australia", 2019). With the RBA recent decision to cut down the interest rate it can be expected a decrease in the exchange rate within Australia into the future. The depreciation in AUD will be more favorable to Xref when it comes to providing their service to international market.
Looking at the main macro economic conditions which are listed above, it can be said that, the overall macro economic conditions within Australia will be favorable towards Xref's future operations. The low level of unemployment rate and the increased level of wages will enhance the income level of consumers which will increase the demand for goods and services. Xref been a 'normal' good the demand for Xref system will also increase along with the increase in income level. Also this situation will continue to remain as the Australia's economy is currently facing a boom. Thus if Australia face a recession or an economic downturn then the income levels will shrink followed by decreased in the level of demand for Xref.
The improved labour environment and stable political situation will attract talented employees and even skilled migrants which is a mandatory factor for software industry.
With the cut off in interest rate, the AUD is expected to depreciate into the future. This will encourage Xref management in further investments and to expand their operations internationally as they can gain in trading through the deduction in exchange rates. At the same time if Xref is importing the required machines and equipments then those will cost more for Xref increasing the future operating costs.
Sustainability practice of Xref
As a company which utilises cloud based computer technology the opportunity of substantially increasing the environmental footprint during the production is considered to be very low. According to the Xref's 2019 corporate governance statement they confirm that "The Company does not consider that it has any material exposure to economic, environmental and social sustainability risks" ("Xref", 2019). Also Xref is not subject to any significant environmental regulation under Australian Commonwealth or State law, or under such laws in the United Kingdom, Canada or Scandinavia.
A consumption negative externality that is currently within the firm is the computer hardwares and electronic items that are thrown away after breakdowns which will contribute towards environmental pollution. So far it's not mentioned that Xref has taken any steps to address this issue, Nevertheless Xref believes that in the long term, it has ability to continue operating at a particular level of economic activity, in a manner that does not compromise the health of the ecosystems in which it operates, and that meets accepted social norms and needs ("Xref", 2019).
In the future customers, investors and employees will demand more for transparency, and will consider the most successful companies as the ones which align the success of the business with the impact to the world. Thus certain companies in the software developing industry also promotes various sustainability projects where as AUTODESK a software that allows building planning and animation set a sustainability goal to power their facilities and cloud services with 100% renewable energy by 2021("Anteagroup", 2019).Therefore it is recommended for Xref also to have sustainability policy developed within the firm such as recycling the used computer hardware and electronic items for the long term viability of a business.
4. Conclusion
Considering the micro environment factors applicable to Xref, it was evident that as a software service provider, who operates locally and internationally, a substantial portion of customers and competitors of Xref are located within Australia. Xref faces a perfect competitive environment and it currently holds a market share of nearly 20% within the automated reference checking software market. Been a medium scale company skilled labour happened to be the most important factor of production for Xref. Having a large portion of fixed cost than the variable cost helps Xref to gain high profit margins with increasing sales.
Australia been the location which Xref physically located and most of the customers are based in, the macro environment factors within Australia clarified that the political stability, low level of unemployment rate, cut off in interest rates and the fluctuations in the exchange rate are currently more favourable towards the going concern of Xref within Australia. Even though Xref is not following any significant sustainability goals they manage to operate without compromising any economic and social norms.
References
Sustainability-Driven Tech Companies You Need to Watch in 2019 and Beyond. (2019). Retrieved 31 October 2019, from https://us.anteagroup.com/enus/blog/9-sustainability-driven-tech-companies-you-need-watch
Australia Economy: Population, GDP, Inflation, Business, Trade, FDI, Corruption. (2019). Retrieved 31 October 2019, from https://www.heritage.org/index/country/australia
Autodesk | 3D Design, Engineering & Entertainment Software. Retrieved 31
October 2019, from https://www.autodesk.com.au/
Automated Reference Checking and Credentialing Software For Employers.
Retrieved 31 October 2019, from https://www.skillsurvey.com/
HireRight - Driving a Higher Standard. Retrieved 31 October 2019, from https://www.hireright.com/apac/
Layton, A., Robinson, T., & Tucker, I. (2016). Economics for today (5th ed.).
Makesure. Retrieved 31 October 2019, from https://www.makesure.com.au/
Police Background Checks, Employment Screening & More. Retrieved 31
October 2019, from https://cvcheck.com/
Referoo – The easiest way to take a reference. Retrieved 31 October 2019, from https://www.referoo.com.au/
Software Suppliers – Australia Industry Research Reports | IBISWorld. (2019). Retrieved 31 October 2019, from https://www.ibisworld.com.au/industrytrends/specialised-market-research-reports/technology/software-suppliers.html
Statement by Philip Lowe, Governor: Monetary Policy Decision | Media Releases. (2019). Retrieved 31 October 2019, from https://www.rba.gov.au/media-releases/2019/mr-19-27.html
The Committee for Economic Development of Australia. (2019). Economic and political overview 2019. Melbourne.
Xref AU: Reference Checking Software. Made Simple. Retrieved 31 October 2019, from https://xref.com/en/au/
Cite This Work
To export a reference to this article please select a referencing stye below:
Reference Copied to Clipboard.
Reference Copied to Clipboard.
Reference Copied to Clipboard.
Reference Copied to Clipboard.
Reference Copied to Clipboard.
Reference Copied to Clipboard.
Reference Copied to Clipboard.
DMCA / Removal Request
If you are the original writer of this essay and no longer wish to have your work published on UKEssays.com then please: