Hialeah | City and Cultural Analysis
| | |
| --- | --- |
| ✅ Paper Type: Free Essay | ✅ Subject: Cultural Studies |
| ✅ Wordcount: 4741 words | ✅ Published: 23rd Jul 2018 |
Hialeah also known as "The City of Progress" is a vivacious, varied and multiethnic community. In this city is common to see people walking in the sideways, people paying dominoes in the back yard, regular people parking in handicap parking space, and Cubans weighing their luggage in groceries store to go to Cuba. Spanish is required to survive and superhuman reflexes are necessary to drive. However, its inhabitants are well known for being warm, hardworking and tenacious people that have shaped the community in many aspects such as culturally, economically, and socially during the past years.
Get Help With Your Essay
If you need assistance with writing your essay, our professional essay writing service is here to help!
Essay Writing Service
Windshield Survey
Physical environment
Hialeah is a city located in the heart of Miami Dade County. It is the sixth largest municipality in Florida, serving over 224,000 residents living in approximately 20-square miles (Hialeah, 2017). According to Google maps Hialeah has a size area of 19.7mi² and 0.5 mi² of that area is on water (Google Maps, 2017). It is immediately surrounded by cities like Miami Lakes, Opa -Locka, Hialeah Gardens and Miami Springs among others. Find attached the Map of the City ("Interesting facts about," 2013)
A trip though Hialeah can expose the economic level differences that exists within the city. The west of Hialeah is a more residential like town and its houses are more modern than those in the east because they are newer. The houses are well structured and equipped with ultimate conditions. Many of the houses are bordering rivers and canals where the view can be astonishing, thus increasing the value of the houses. As you move around the west side of the city, different vegetation can be perceived with a variety of spacious landscaping and impeccable cleanliness. The main streets that divide the north from the south are 103rd and 68th which are saturated with a great variety of stores to include groceries, clothing, home improvement material, pharmacies and many others. The main streets are also the place to go when there is a big celebration as a result of a sport's victory brought home by either the Miami Marlins, Heat or Dolphins. The Hialeah people would gather and make noises with pans, musical instruments and car honks.
On the other hand, as one cruises around the east side of the city, a huge difference can be perceived. Houses are typically smaller because they are older, even though some have spacious patios, there is lack of landscaping maintenance and the streets can be noted less clean. In addition, the shopping centers contain all types of mechanical shops and junk yards which tend to give the impression of a deserted and neglected neighborhood. There isn't a great variety of store in this area and most of the time; residents prefer to drive to other locations within the city to buy their goods.
Health and social services
From a medical standpoint, Hialeah is a well-equipped and prepared city that counts with adequate health and social services to meet population needs. The city has shelters for the needy population, in addition to other services like resources for the homeless and clinics. It also offers treatment centers which provide alcohol and drug rehabilitation. For instance, The Salvation Army Hialeah Support is a facility in charge of providing disaster services, emergency financial assistance, transitional housing, and emergency shelter (Army, 2017). Hialeah also houses the Safe Heaven facility which is a youth emergency shelter. Animal shelters are also available for the care protection, medical and adoption services for pets or homeless animals.
There are three main hospitals in the city: Palmetto General Hospital, Hialeah Hospital, and Palm Spring Hospital which recently transitioned to Larkin Community Hospital. These hospitals cover all emergency, non-emergency problems of the population as well as maternal needs, pediatrics, surgery, acute and non-acute hospitalization. There are also many urgent care and medical centers like CAC Florida Medical and Leon Medical. This last two put more attention in the care for the growing elderly population by managing their chronic diseases. One example is Diabetes Mellitus which places the children and elderly population at risk due to the increasing rate of obesity.
More than 100 Home Health Agencies can be found throughout the city. These agencies hire Nurses, both RN and LPN's, HHA, Physical and Occupational therapists, Case Managers and Social Workers. Among the services provided by these agencies is Private Duty Nursing, Home Health Aide, Home health visits for wound care, insulin administration, rehabilitation and hospitalization prevention. Among the most important agencies we can find Paradise Home Health Care and A&A health services
As a major aspect of the medicinal services needs of the populace, Hialeah provides traditional healer services such as Santeros and Babalawos who typically prescribe natural and herbal remedies. Santeria gives devotees spiritual comfort as any other religion and furthermore provides spiritual healing that in the end brings is said to bring physical healing. Santeria is well known for utilizing ceremonies, figurines, elixirs, supplications and in some instances animal sacrifices to obtain in return what is needed and asked for. Other practices such as acupuncture, cupping and yoga can found though it is less common.
Economy
Hialeah is an important commercial center in Miami Dade. With a vast amount of striving businesses such as Target, Starbucks, Best Buy, Walmart, Home Depot and local business like Navarro, Sedano's and La Carreta, the city provides employment and the economy is maintained at a balanced flow. Many businesses have changed their strategies to attract the Latin community that inhabits Hialeah. For example, Publix came up with a Latin version and now offers a variety of Latin products, Spanish information and the beloved Cuban coffee also known as the black gold. Economically speaking, Hialeah has always remained stable even during the recent economic crisis. Although some businesses took some drastic measures during the crisis such as reducing personnel, the community managed to remain strong and steady.
Even though the city was full of manufacturing factories, during the 1970's and 1980's most of them closed thus leaving many people without jobs and steady incomes. However, Hialeah has always been resilient and new electronics and technology businesses moved in and started to increase the local economy by creating hundreds of new employment opportunities. The current unemployment rate for Hialeah is 5.4% (Home Facts, 2017). Besides the constant creation of new jobs, there are also new construction plans in the city that continue to offer more jobs to the population thus helping the economy furthermore.
Safety and transportation
"All Ways Lead to Hialeah" is one of the city's first slogans. Being conveniently located in the heart of northwest Dade, the city has access to every major expressway (I-75, Palmetto Expressway, Florida Turnpike, US 27 (Okeechobee Road) (Hialeah, 2017a). Since it is surrounded by Opa-Locka and Miami, it has direct access to the Miami International Airport as well as the Opa-Locka Airport. The Miami Metrorail and Tri-Rail/Metrorail Transfer stations serve Hialeah to move around the city and even the state. The city also offers its own public transportation which helps improve traffic by making it less demanding for occupants to drive. Sidewalks and bike lines are also available for those who prefer a more healthy and opened air transportation. Despite its accommodations, 73.8% of the population prefers to use a car or a truck to drive to and from work. Only 5.2% of the population uses public transportation, 2.2 % walks, 1.2% uses other means like bicycle or motorcycle vehicles and 2.7% work at home (Foutz & MPO, 2008). Driving in this city can be very challenging. According to Allstate, Hialeah is ranked as the fourth city with the worst drivers, for that reason, insurance policies tend to be much higher compared to adjacent cities. (Munzenrieder, 2016).
Hialeah is a full-service city, including Police, Fire, Water & Sewer, and Public Works. The City has a long history of providing these services (Hialeah, 2017b). The Hialeah Fire Department (HFD) had its beginnings when the City was founded in 1925. Is rated as a class 1 fire department and it serves a population of more than 250,000 people (Hialeah, 2017b). The fire department is comprised by professionals that provide services integration between fire protection, emergency medical services, water rescue, environment protection, hazardous materials response, fire and hazard risk reduction inspection and prevention services (Hialeah, 2017b).
The Hialeah police department is the 75th largest law enforcement in Florida (Hialeah, 2017c). The crime rate in Hialeah for theft and property crime is 45 in a scale 1(low)-100 (Best places, n.d.). It is a very alarming concern but the community feels save as the police department provides a secure environment by acting immediately in case of incidences by protecting the life and property of the community (Hialeah, 2017c). The water and sewer department make sure that water in potable and safe for the community and make notifications if any contamination occurred.
Politics and government
The City of Hialeah is the fifth largest city in the State of Florida. There is no city manager but it has a Mayor-Council type Government (Hialeah, 2017d). The Mayor is the Chief Executive Officer and is responsible for the everyday functions of the city. All departments in the division report directly to the Mayor. He is responsible for presenting annual budgets to the City Council in order for them to be approved. The Mayor is not a voting member however, he has the power to veto which can be overridden only by 5 of the 7 members of the vote Council.
The city of Hialeah was incorporated in the year 1925, which is when the process of elections came into place. It has grown from one voting poll to well over 500 voters in 1925, to 50 voting precincts to almost 97,000 voters in 2013. City elections are held every two years, unlike other cities since there are no more than 4 seats of the council are subject to election at any one time. Elections are normally held in November at odd number years. Last election was held in 2015. Mayor and council meetings are held every 2nd and 4th Tuesday of each month and are open to the public. These meetings take place at The City Hall.
The Mayor also has an advisory board which consists of, Veterans affairs, Planning and Zoning, Cultural Affairs, and Historic, just to name a few. These councilmen and women meet regularly and help the Mayor with his day to day decision making. What makes these board members acquainted to council the Mayor is the fact that they reside within the community and are registered voters in Hialeah. They are elected every seven years and the group consists of seven individuals who are responsible for passing legislation, which in turn helps the Mayor run the city more efficiently and help to approve the budgets for city plans.
Communication
City of Hialeah has many recreational centers and parks where residents can gather together. There are a variety of amenities and activities that residents of every age group can benefit from. They provide adult programs such as Zumba and art classes. For instance, Goodlet Performing Arts Center has award-winning classes, programs and lessons in theater dance and music. Hialeah has four adult centers that provide free daily lunch and activities for seniors. Also, adults with developmental disabilities can participate in city's adult therapeutic recreational centers and daily program.
The newspapers that are common in the city of Hialeah are New Times Romance and La Voz de la Calle. La Voz de la Calle provides news and information of interest to Hispanic community in Greater Miami, Florida area. It covers ethnic society and culture. The city has its own TV channel called Hialeah 77. It provides residents with informative and entertaining content so they can be connected to the city of Hialeah. Also, a variety of other channels are available through Comcast cable which include all local channels and Spanish channels like Univision and Telemundo. The most common programs they enjoy watching are Marlins baseball games, Caso Cerrado and Mexican soap operas. Formal communication in Hialeah includes Code Enforcement and Code of Ordinance.
Education
City of Hialeah has approximately 35 public schools and more than 10 private schools. In addition, the city has a Miami Dade College, Florida National University and Everest Institute. Hialeah schools are rated among the most equitable in the nation for poor students. (Miami Herald, 2016). City of Hialeah Education Academy is ranked 31st within Florida state and Hialeah Gardens has overall grade B in academics. High school graduation rates continue to climb across Florida, Miami-Dade and Hialeah. They beat state average with 78.1 percent graduation rate because more students are earning high school diplomas than ever before. (Miami Herald, 2016).
There is a variety of after school programs available for students in the City of Hialeah. They include Sports and Dance studio centers, Goodlet Tennis center, Kidz City Learning Center, CB Learning Center and After-school Center among many others. Step Ahead Youth enrichment program offers free after-school activities for high school students with special needs. Extracurricular activities such as music arts and sports are also available.
Hialeah which is included in the Miami-Dade County and has only about third onsite health aids, with every three schools sharing a nurse. The Children's Trust, which helps fund the program, says it will replace the aides with full-time nurses next year at 145 schools. The other 200 schools in the county share 14 nurses provided by the health department (Sun Sentinel, 2016).
The School Board of Miami-Dade County conducts much of its business through School Board Committees. Committee Meeting Announcements are posted 5 working days prior to the meeting. Each committee is shown with its constituent board members and deputy superintendents (DadeSchools.net). The Department of Education and Community Services of the City of Hialeah promotes lifelong learning, an informed citizenry, literacy, an enhanced quality of life and broadened horizons for all residents of Hialeah through libraries, adult centers, after-school programs, summer and holiday camps, and special Population Center for adults with disabilities.
Residents have access to library systems which is composed of one Main library and five branches. Hialeah Public Libraries serve the 225,000 residents of Hialeah, a diverse and vibrant city and the second largest in Miami-Dade County. Hialeah Libraries has a strong community focus, a variety of innovative programming, a broad array of relevant materials in multiple formats and networked computers that provide internet access in all six branch facilities (City of Hialeah, 2017). The major education issues community is facing are the budget, new standards and testing, expanding school choices and school safety.
Resources
The City of Hialeah has 23 beautiful parks with hundreds of acres of green space and recreational facilities. Among the diverse places to go, the most popular include Amelia Earhart Park and the Hialeah Race Track Park and Casino. Residents can use a variety of amenities designed for every age group and activity. The city maintains seven water parks, one aquatic center, and seven community pools. For younger the generation a variety of programs are provided which include baseball, basketball, cheerleading, flag football, soccer, tennis, and volleyball. The city offers a wide range of free cultural activities, programs and events that appeal to the different backgrounds for its residents.
Community: Strengths and Weakness
Strengths:
Hialeah is a full-service city, including Police, Fire, Water & Sewer, and Public Works.
It is a community with recreational and educational programs available for residents at a low cost or free. For example: residents have access to the library systems, after- school and camp programs.
The city is a multicultural place giving its residents the opportunity to be part of various
Cultural activities and learn about different backgrounds, beliefs and costumes to better understand and accept one another.
Hialeah is and will always be known as "The City of Progress" because of its resilient and constantly evolving economy that allows for various employment opportunities.
One of the city most important and nationally well-known historic places is the Hialeah Race Track Park and Casino, built in 1925 which has always been vital because it creates a variety of job positions.
Hialeah is a family-centered community that houses many different cultural and heritage traditions that can be witnessed among the different nationalities that co-exist.
Allows residents to feel secure to walk around the neighborhoods.
Great ethnicity diversity.
Apartments and Houses are more affordable compared to other areas of Miami.
Stability of house ownership is high and properties are passed down to the next generations.
Responsiveness of Local Officers is fast and accurate most of the times.
Neighbors have intricate relationships and tend to help each others.
Weaknesses:
Hialeah traffic can be a major problem and challenge for residents and visitors.
Children obesity's incidence continues to increase.
Unkempt properties mainly on the east side
Rental properties: Inadequate screening and Lack of Maintenance
Plan: Addressing Community Weaknesses
For many chronic conditions, ethnic or racial factors function as risk markers rather than risk factors. Risk markers as we know are factors that help to identify persons who may have an elevated risk of developing a specific condition but that do not themselves contribute to its development (Clark, 2008). According to the division of adult and community Health, for many chronic diseases, race and ethnicity are probably markers for differences in health behaviors, access to health care, and other factors that contribute to the development of disease (Clark, 2008). The Hispanic population leaving in Hialeah Florida is a great example of this fact. Those living in this population are at greater risk of developing diabetes mellitus and hypertension among other chronic diseases not because they are Hispanics but because of a combination of factors that is common to all or most of them (i.e. culture, type of food consumed, social economic status, access to health etc.) that puts the population as whole at a greater risk for developing those diseases. However, this report will focus on the impact of diabetes mellitus on this population by considering the different components that community nurses must consider when caring for this population.
Diabetes mellitus is a chronic illness that requires a lifetime of special self-management behaviors. It presents its own challenges for the community health nurses to manage. Based on assessment data, major nursing diagnoses in this community may include the following:
Knowledge deficit related to disease process as evidenced by patient not using medical consumption therapy as prescribed (MNT).
Risk for fluid volume deficit related to polyuria and dehydration.
Fluid and electrolyte imbalance related to fluid loss or shifts.
Deficient knowledge about diabetes self-care skills or information.
Anxiety related to loss of control, fear of inability to manage diabetes, misinformation related to diabetes, fear of diabetes complication. (Smeltzer, Bare, Hinkle & Cheever, 2010)
The major goals for these patients may include:
Maintenance of fluid and electrolyte balance,
Optimal control of blood glucose levels,
Ability to perform diabetes survival skills and self-care activities, and
Absence of complications.
Nursing interventions may include:
Maintaining fluid and electrolyte balance by controlling intake and output, administering IV fluids as prescribed, encouraging oral fluid intake when permitted.
Increase knowledge about diabetes management first by assessing the patient's understanding and adherence to the diabetes management plan and teach as needed.
Monitoring and managing potential complications such as fluid overload due to administration of large volume of fluid at a rapid rate.
Teaching patient self-care. The patient is taught survival skills, including treatment modalities such as diet, insulin administration, monitoring of blood glucose, and for for type I diabetes, monitoring of urine ketones.
Follow up education is arranged with a home care nurse and dietitian or an outpatient diabetes education center.
The importance of self-monitoring and of monitoring and follow-up primary health care providers is reinforced by the nurse, and the patient is reminded about the importance of keeping follow-up appointments. (Smeltzer, Bare, Hinkle & Cheever, 2010).
Nursing Evaluation
Expected outcomes may include the following:
Patient achieves fluid and electrolyte balance by demonstrating intake and output balance, exhibits electrolyte values within normal limits, and exhibits vital signs that remain stable with resolution of orthostatic hypotension and tachycardia.
Patient demonstrates knowledge about diabetes management by identifying factors leading to hypoglycemia or hyperglycemia and by identifying factors to prevent the development of these complications.
Patient exhibit normal cardiac rate and rhythm and normal breath sounds; patient exhibits no jugular vein distention, exhibits blood glucose and urine ketone levels within target range. (Smeltzer, Bare, Hinkle & Cheever, 2010)
Conclusion
Hialeah "The City of Progress" owes its name to its residents that never cease to seek improvement of their quality of life. From small businesses to big corporations, the city allows for its residents to have jobs and continue to grow within the community. Being able to speak Spanish can be a great asset if planning to live in Hialeah, however residents have adapted to have the younger bilingual generation to make all translations for them. Driving around the city can be somewhat challenging but it can also be due to the fact that it is overpopulated and that most people are employed and need to get to and from work at around the same time. Despite its weaknesses and sometimes unkempt appearance, Hialeah is a city with a great potential and has a community full of hope and goals. A community of Hispanic immigrants that have gone through the roughest of times by leaving their native countries, separating from immediate family and having to build a life from scratch at 40 years of age. Their heritage and cultural backgrounds have been embedded in the Hialeah we now see and the result is astonishing because they have managed to create a little piece of their country within the US.
Attachments:
City of Hialieah map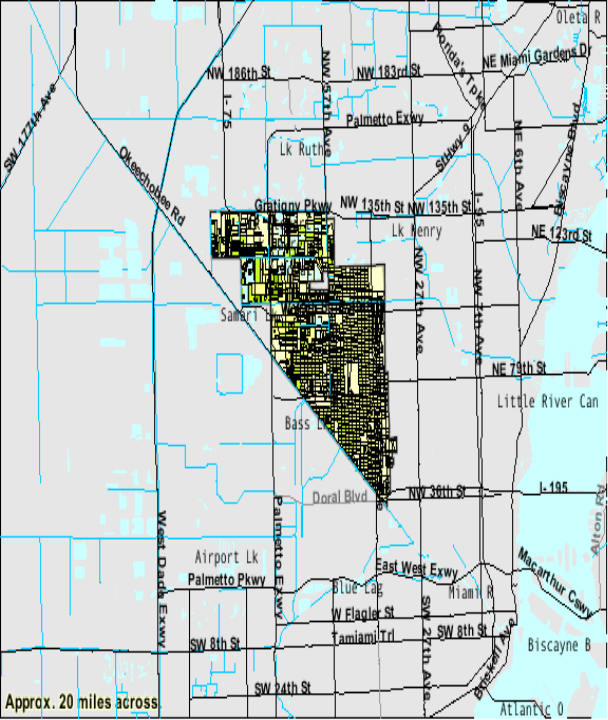 ("Interesting facts about," 2013)
References
Army, T. S. (2017). The salvation army – about the salvation army. Retrieved January 21, 2017, from http://www.salvationarmyusa.org/usn/about
Best places. Hialeah, Florida crime. Retrieved January 22, 2017, from http://www.bestplaces.net/crime/city/florida/hialeah
Clark, M. (2008). Community health nursing. (fifth ed.). Prentice Hall. DOI: www.prenhall.com/clark
Foutz, L., & MPO. (2008). Hialeah transit system express bus route and enhanced service Hialeah transit system. Retrieved from http://miamidadempo.org/library/studies/hialeah-transit-system-express-bus-route-enhanced-service-final-draft-2008-03.pdf
Government and Politics History retrieved from: http://www.hialeahfl.gov/ http://www.hialeahfl.gov/index.php?lang=en www.hialeahfl.gov/index.php?option=com_content&view=article&id…
Google Maps. (2017). Hialeah size area. Retrieved January 22, 2017, from https://www.google.com/search?q=hialeah+size+area&oq=hia&aqs=chrome.0.69i59l3j69i57j69i60l2.1726j0j7&sourceid=chrome&ie=UTF-8
Hialeah, C. (2017a). City of Hialeah, Florida – Transportation. Retrieved January 21, 2017, from http://www.hialeahfl.gov/index.php?option=com_content&view=article&id=6&Itemid=385&lang=en
Hialeah, C. (2017b). City of Hialeah, Florida – Fire. Retrieved January 22, 2017, from http://www.hialeahfl.gov/index.php?option=com_content&view=article&id=57&Itemid=274&lang=en
Hialeah, C. (2017c). City of Hialeah, Florida – Police department. Retrieved January 22, 2017, from http://www.hialeahfl.gov/index.php?option=com_content&view=article&id=119&Itemid=387&lang=en
Hialeah, C. (2017d). City of Hialeah, Florida – your government. Retrieved January 29, 2017, from http://www.hialeahfl.gov/index.php?option=com_content&view=article&id=14&Itemid=386&lang=en
Home Facts. (2017). Hialeah, FL unemployment. Retrieved January 22, 2017, from http://www.homefacts.com/unemployment/Florida/Miami-Dade-County/Hialeah.html
Interesting facts about Hialeah, Florida. (2013). Retrieved from http://www.bestplaces.net/city/florida/hialeah
Munzenrieder, K. (2016, May 24). Allstate claims Hialeah has America's 4th worst drivers, Miami 8th. Retrieved January 22, 2017, from News, http://www.miaminewtimes.com/news/allstate-claims-hialeah-has-americas-4th-worst-drivers-miami-8th-6549947
Smeltzer, S., Bare, B., Hinkle, J., & Cheever, K. (2010).Medical-surgical nursing. (twelfth ed.). New York: The Point.
Strengths Weaknesses Opportunities Threats Community History. Retrieved from www.fergursoncity.com/DocumentView.a
Veiga, C. (2016, March 31). Hialeah, Miami Schools Rated Among Most Equitable in the Nation for Poor Students. Miami Herald.
Welcome to Miami-Dade County Public Schools. (2016, December7). Retrieved January 29, 2017, from http://dadeschools.net/
YI, K. (2016, May 1). Schools Lack Nurses to Meet Growing Need. Sun Sentinel.
Cite This Work
To export a reference to this article please select a referencing stye below:
Reference Copied to Clipboard.
Reference Copied to Clipboard.
Reference Copied to Clipboard.
Reference Copied to Clipboard.
Reference Copied to Clipboard.
Reference Copied to Clipboard.
Reference Copied to Clipboard.
DMCA / Removal Request
If you are the original writer of this essay and no longer wish to have your work published on UKEssays.com then please: