Facing Challenges with Strategic Management
| | |
| --- | --- |
| ✅ Paper Type: Free Essay | ✅ Subject: Business |
| ✅ Wordcount: 5449 words | ✅ Published: 26th Jul 2017 |
1.0 Introduction
Poh Kong, is a jewelry company founded by Cheong Teck Chong and Choon Yee Seiong which established first outlet in year 1976 located in Petaling Jaya. Besides, since 2004, Poh Kong has been listed in Bursa Malaysia, yet they owned a manufacturing plant in Shah Alam KL (PohKong, n.d.). Nowadays, Poh Kong was the leader of jewelry industry because of its tremendous growth and their core business philosophies, which are Quality, Value, Trust, and Choice. Furthermore, in targeting different customers range, they had several in house brands such as Anggun, Tranz, Happy Love, and The Art of Auspicious. Besides, Poh Kong was the licensee for Disney Collection and sole distributor for famous brand such as Luca Carati, Schoeffel, Hemera Diamond and Angel Diamond (Gal, 2016).
Get Help With Your Essay
If you need assistance with writing your essay, our professional essay writing service is here to help!
Essay Writing Service
In 2011, Poh Kong reached its 100th outlet in Peninsula Malaysia. Poh Kong reaffirmed by RAM Ratings Services Berhad as largest jewellery retail chain store in Malaysia in 2014. Other than that, it also awarded the Malaysia's Top 10 Retailers in the Asia, Putra Brand Award and Creative ASEAN Jewellery Design Award (Cleffairy, 2015). Besides, Poh Kong truly understands their business is strongly reliance on brand name and brand reputation, therefore, Corporate Social Responsibility also a main concern of Poh Kong. For instance, national cancer survivals day, charity golf, water vending machine, Malaysia AEON Foundation (MAF) fund raising and etc. are parts of the CSR from Poh Kong (TheStar, 2013).
According to annual report of year 2015, we observed that Poh Kong has a big drop in earnings before tax since year 2012, but it has successfully recover after year 2014. Besides, the executive chairman and group managing director, Datuk Choon Yee Seiong has claimed that year 2016 is challenging for gold jewelry industry due to the fluctuation of dropping of global gold price (Toh, 2016) and reduced demand for jewellery and gold related investment products (Poh Kong, 2016).
In this study, we are aiming to have more understanding on how a company could deal with the challenge faced by using strategic management, how strategic management could actually help to analyze issues more comprehensively and conducting various analyses and formulation of strategic plans.
2.0 SWOT Analysis
2.1 (S)trengths
Poh Kong Holdings Berhad was the largest of gold jewelleries retailer in Malaysia. As market leader, Poh Kong has a strong reputation, market position and advantage in expanding their business as stated in annual report, Poh Kong has total of 106 outlets across 9 states in year 2014 (PohKong, n.d.). Poh Kong's outlet showroom are much higher than its competitor, for instance, Tomei (52 retail outlets), Wah Chan (42 outlets), and Habib (more than 30 outlets).
Partnership with Moraglione, a well-known jewellery brand from Italy has increased Poh Kong's product variety and jewellery types. Besides, they able to compete with other international brands and has the opportunity to expand its business to abroad (Najumudeen, 2012).
Furthermore, Poh Kong has a strong financial position. Poh Kong group revenue and pre-tax profit in year 2015 are higher than 2014 while margins have been improved by cost control initiatives (Poh Kong, 2015). They have the flexibility in financial and lower interest rate and liquidity risk as result from fail to loan repayment. Large cash reserves make them have advantage in long term investments.
2.2 (W)eaknesses
Poh Kong only covers Malaysia regions, they didn't export their products as a way to expand their business (Bernama, 2013). Besides, all of the 106 outlets are located at 10 states from peninsular Malaysia. Consumers from East Malaysia unable to purchase any jewellery from Poh Kong due to there's yet to be any outlets in Sabah and Sarawak, expansion of Poh Kong outlets in East Malaysia was planned and estimated to be happen in 2017. Poh Kong are selling their products through online platform like Lazada and 11Street however they will be a limited selection for consumer from East Malaysia (Poh Kong, 2017).
Low customer satisfaction is one of the weaknesses. Poh Kong has differentiated their outlet into Diamond & Gold outlets and retail concept stores, for instance, Diamond Boutique, Gold Boutique, Jade Gallery and Oro Bianco. These stores are used to meet the needs of different targets markets (PressReader, 2016). However, it was a challenge and tough for Poh Kong to maintain each branch in similar environment and caused low customer satisfaction. Besides, internal competition was caused by the reason of selling similar products in the market.
2.3 (O)pportunity
Malaysia enjoying a zero duty for exporting jewellery product under China-ASEAN Free Trade Agreement (CAFTA), in addition, China currently glittering demand of jewellery market and import permit has been carried out for foreign importers who wish to import jewellery products into China (Miti, n.d.). Hence, it becomes the opportunity for Poh Kong to expand its business to China market.
Poh Kong can grow demand of gold bar in market. Due to poor economy and fluctuation on Malaysia Ringgit, investment in gold is better than invest in stocks. According to Nwazor (2016), gold is a safe investment. Besides, investment in gold can remain constant for few years as judged from history. Due to its recognized value by worldwide, gold was used as the world reserve currency until recently (Smith, n.d).
Fluctuation of gold price not guaranteed increase sales of jewellers, however it could benefits company in terms of cost of production. Gold price in 2013 was at a historical high of US$1900 an ounce, dropped to US$1150 per ounce in 2014, increased to US$1364 per ounce in July 2016 and slightly dropped to US$1234 per ounce in early March 2017. It has utilized the cost saving and used it for marketing purposes to boost sales (VnBusinessreg, n.d.).
2.4 (T)hreat
Competition is one of the threats for Poh Kong. As results, consumer can choose for other alternatives from different jewellers since Poh Kong is not the only player (Euromonitor, 2015). Mainly jewellery products are differentiated based on their design. If Poh Kong offers less variety of design, consumer will choose their preferred design from their competitor. Besides, mostly jewellery outlets operates near to competitors, under those circumstances, consumer will compare price and design easily.
Slowdown of economy will cause a reduction on consumer's spending (Fmt, 2015). Obviously, the poor economic condition had caused increase of price of electricity and other costs which could affect Poh Kong to increase their price of goods. The growing in price of jewellery and gold from time to time has caused a drop in demand for jewellery. Moreover, jewellery is luxury goods, people will only consider to purchase jewellery when there is surplus after consume on daily necessities.
Goods and Service Tax (GST) in Malaysia. A study by Nielsen, a global information and measurement company had proved that four in five Malaysian consumers are cutting back on shopping expenditure to increase household savings after the adoption of GST. It has affected Malaysian spending behaviour (Ida, 2015).
3.0 Industry Analysis – Porter five forces
3.1 Threat of New Entrants
Threat of new entrants for jewelry industry is low.
There is low in threat of new entrants for jewelry industry due to it requires high capital start up (Din, 2015). A company must spend high figure in money in order to compete in the market and high capital requirements positively affect the Jewelry industry because it will lead to an increase in profits for the entity. According to Bhobe (2014) several of the existing firms have contracts with well-known jewelry distributing companies. New entrants may face difficulty to contract with these companies due to lack of financial status. Brand recognition also is an important competitive advantage and requires high investment costs and time in order to build strong brand name (WikiWealth, 2014). Therefore, new entrants that without a reputable name which may cause doubt from a diamond distributing company therefore no contract will be created. In addition, existing firms has experience economies of scale from large investments in research and development or brand advertising. As result, the entry into the market is getting increasingly difficult due to the growth of companies already established in the industry.
3.2 Threat of Substitute Products
The threat of substitution is high in jewelry industry.
It based on the relative price and performance of the competitor's products and on customers' willingness to consider the substitutes. They could potentially attract a significant proportion of market volume and reduce the potential sales volume for existing players. This category also relates to complementary products. For example, Poh Kong facing competition from substitute's jewelry which made of silver, platinum, diamonds and pearls. Costume or imitation jewelry also provided consumers with an alternative to look good but at a cheaper cost. Safiyuddin (2015) indicates that the price elasticity is affected by substitute products. When high substitutes available it causes the demand become more elastic since consumers have more alternative selection. Thus, a close substitute product constrains the ability of firms in the industry to increase  prices.
3.3 Bargaining Power of Suppliers
Bargaining power of suppliers for jewelry industry is moderate.
According to Durant (2014) indicates that there is low bargaining power of suppliers when they are reliant on high volumes because of producer can threaten to cut volumes and affect the profits of the supplier. Besides, there are many gold jewelry suppliers in Malaysia such as Tomei Group, Niche Capital Emas Holding, DeGem or Habib Jewels (Mehta, 2016). Therefore, the switching cost to other supplier will be lower. On the other hand, for certain high quality diamonds and some precious gems are rare sources thus is little surplus of the capacity which allows for prices relatively high. Since these precious gems and diamond can bring great value to the firms, therefore the power of supplier will be slightly increased (Thompson, 2008).
3.4 Bargaining Power of Buyers
The bargaining power of buyers in this industry is high.
In this industry, buyers have high bargaining power because there are many competing and viable sources to purchase jewelry from. According to Safiyuddin (2014), there are 3000 local gold jewelry retail outlets in Malaysia. Thus, customers bargaining power increased since there is a lot of selection of the jewelry stores. In Malaysia, the number of internet user is increasing from year to year and customer can easily get the product information from the internet. Due to the high information availability, customer can make comparison on the design and services between the jewelry stores. In addition, customers are free to shift to any other jeweler and the switching costs for customer are low.
3.5 Rivalry among Present Competitors
The rivalry among competing sellers in this industry is high.
There are large numbers of jewelry stores that are currently operating in Malaysia including local and foreign jewelry store (Din, 2015). They are competing to attract the same number of resources and customer. They also compete to boost their brand recognition and improve their quality of services in order to gain market shares. Poh Kong and other jewelry store like Habib Jewel struggle for market leadership. Moreover, jewelry industry companies are considered mass merchandisers or limited line jewelers generally compete on the basis of price. The companies have created a stagnant industry that now competes by taking market share away from the other players yet creates price wars among most of the firms in the industry. Besides, the major players such as Habib, Degem and other competitors are trying to lobby for competitive advantage in these areas.
3.6 Conclusion based on the Porter's Five Forces
Based on the industry analysis, this jewelry industry is quite attractive because the large economies of scale make it very hard for new entrants to compete in this industry. The more assets the firm has, the greater the firm ability to take advantage of economies of scale. Besides, the threat of substitutes is reducing because gold has inherent investment value which is further reinforced by industry buy-back policy (Bharl, 2016). In other words, gold jewelry retail outlets would purchase old jewelry at prevailing gold prices and provides an avenue for consumers to upgrade or change their existing jewelry sets. This is one of the ways to increase sales volume and also build up customer loyalty.
4.0 Competitive Analysis
The size of circle for each competitor is based on the annual revenue in 2015 as Tomei's annual report will only announce on April every year. The revenue for Pandora is RM 16.7 billion (Annual Report, n.d.); Poh Kong is RM 0.8 billion (Poh Kong, 2015­); Tomei and Wah Chan and almost the same revenue which is RM 0.5 billion (Annual Report, n.d.); and Sk Jewelry is RM 0.1 billion (Sookee, n.d.).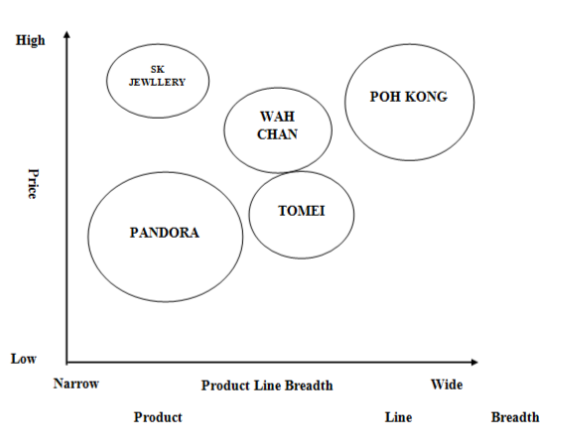 There are a lot of competitors have been entered and also established in the jewelry industry. Although there are a lot competitors in the jewelry marketplace but they are offering different design of the product with different brand and price. Besides, they also were using different promotion strategies to promote their product in order to boost their sales. From the group mapping, we can know that Poh Kong is the one who offered the wide product line breath as compare to other competitors such as Pandora, Tomei, Wah Chan, and Sk Jewelry. Besides from offering yellow gold and silver jewelry, Poh Kong also has offered pearl, jade and diamond jewelry to customer.
In order to meet the customer needs and requirements, Poh Kong has their own manufacturer in Shah Alam, so they able to manufacture and design the jewelries that customer preferred and requested (Poh Kong, n.d.). Therefore, by satisfying the customers need and want, Poh Kong able to compete with other competitors and survive in the marketplace.
Moreover, as we know that gold bar and gold coin is an investment product in long term. Poh Kong not only offered and provided a gold bar and gold coin but they also offered wide range of gold jewelry with different design such as Tranz, Anggun, Auspicious, Bombay Collection, Disney, and Happy Love (Poh Kong, n.d.). Other competitors just offered few design of gold jewelries as compare to Poh Kong. Thus, the variety products that offered by Poh Kong is able to serve for more customer types and able to attract more customer to buy. It will increase the sale and profit of the company in short term.
4.1 Price
Based on the strategy group mapping, it shown that the price of diamond ring that offered by Poh Kong is slightly higher than Wah Chan but lower than Sk Jewelry. The reason that we compare to the price of the diamond ring is because different jewelry retailers may offer different price for the carat of the diamond ring.
The strategy group mapping has shown that the price of the diamond ring from Sk Jewelry is slightly higher than Poh Kong and it cost RM 4888 for 0.15 carat of the diamond ring (Sk Jewelry, n.d.). Wah Chan has offered 0.25 carat of diamond ring and it cost RM 3888, it is slightly cheaper than Poh Kong (Wah Chan, n.d.).
For competitor Tomei, the overall product price that offered by Tomei is lower than Poh Kong, Sk Jewelry and Wah Chan. While for another competitor Pandora, the price of the product that they offered is the lowest among the four jewelry retailers (Pandora, n.d.).
From the group mapping, the product price of the Poh Kong is consider high as compare to other jewelry industry. However, Poh Kong has provided the good quality and variety of design and option in order to meet more customer types. Besides, for quality assurance, Poh Kongensures that stringent measures are constantly undertaken without compromising design excellence. Poh Kong jewelry has been created with superior quality and meticulous craftsmanship. Thus, the customer market share will increase and result in sale and profit of the company increase as well.
4.2 Competitive position and performance
Today, Poh Kong has own manufacturing facility which located in Shah Alam and has reached 100th outlet thus Poh Kong has earned it position as Malaysia's fastest growing and largest jewelry retail chain store (Poh Kong, 2016.). This indicates that Poh Kong has the capacity to increase their profit and open more outlets to attract more customers to purchase their product. It is very convenience for customer to visit and purchase the jewelry in their retail outlets. Therefore, Poh Kong able to gain competitive advantage and position in Malaysia as compare to other competitors.
Moreover, Poh Kong was listed in The Malaysia Book of Records as the Largest Jewellery Retail Chain in 1998.The Ministry of Domestic Trade & Consumer Affairs has awarded several Poh Kong subsidiaries the Fair Prize Shop Awards from 2007 till 2010 in the Jewellery Category in recognition of the Company's good business ethics, quality goods and excellent after sales service (Poh Kong, n.d.).
In addition, Poh Kong has been ranked 9th position and 10th position in Malaysia, and it listed in 2004 and 2006 Retail Asia-Pacific Top 50 respectively. Poh Kong has continued to be listed in 2009 and 2010 Retail Asia-Pacific Top 500. Besides, Poh Kong has been listed as Malaysia Top 1000 in 2011 and it also awarded as Malaysia top 10 in 2014. For 2016 Retail Asia-Pacific Top 500, Poh Kong was listed and has been ranked 8th position among Malaysia's Top 10 retailers. The award is given out annually to the top performing companies and leaders in various industries as the recognition of their contribution to the country (Poh Kong, n.d.).
Based on these awards, we can know that Poh Kong has a good performance in managing the company operation as compare to other competitors. Therefore, Poh Kong has the capacity to become top 10 in Malaysia. It indicates that Poh Kong is a well-known brand of jewelry in Malaysia.
Furthermore, Poh Kong endeavors to carry out an action in a sustainable manner and promote responsible practices among its shareholders, suppliers and customers in the marketplace. Poh Kong has owned over 100 outlets provides convenience and accessibility to customers, offering wide range of quality products for customers' choices. Poh Kong has provided recycled bag as a gift to the customer to carry their product after made purchase (Poh Kong, n.d.). The group supports "nickel safe" jewelry products for the protection of consumers' health and safety. Therefore, Poh Kong able to reduce the cost in producing packaging items for their products.
5.0 Strategy Formulation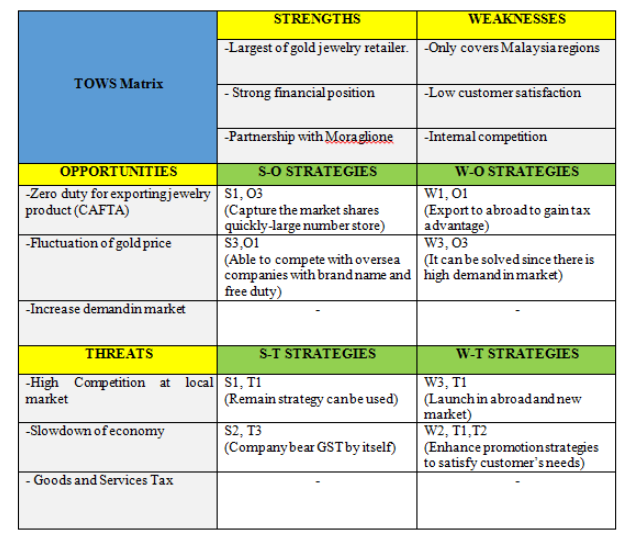 Strength-opportunities (SO) strategies use a company's internal strengths to take advantage of external opportunities. The first SO strategy is the largest number of retail shops take advantage on the increasing of demand in the market. Poh Kong has the opportunity to capture most of the market shares since it acts as the largest gold jewelry retailer in Malaysia. It can be explained by Poh Kong uses its advantage of large number of retail outlets and well established brand to target wisely in Malaysia. The next SO strategy is the partnership with Moraglione enables Poh Kong to compete with the global brands, by enjoying the zero tax and taking advantage on the brand name of Moraglione. It also provides an opportunity for Poh Kong to expand its business to abroad. Besides, due to the world-renowned international brand of Moraglione, the cost saving from zero tax and advertisement spending can be utilized for future R&D.
Weaknesses-opportunities (WO) strategies improve internal weaknesses by taking advantage of external opportunities. First of the WO strategy is the zero duty for exporting jewelry product can enlarge the target market of Poh Kong, which only target in Malaysia currently. It can exports the jewelries to other countries and enjoys the tax advantage directly. Besides, it also can expand their business opportunities to abroad, test the market before it conducts a direct investment at there, and yet increase its profitability. The second WO strategy is the increase demand in the market able to resolve the problem of internal competition. According to research, customers' demands are increased and their wants are difficult to be fulfilled. Customers always expect special and differentiate gold jewelries, hence the various brands of Poh Kong able to satisfy their needs and wants.
Strength-threats (ST) strategies use a company's strengths to avoid or reduce the impact of external threats. First ST strategy is Poh Kong should uses remain strategy to deal with the high competition in local market. Since it has become the largest jewelry retailers in Malaysia, it will not affect its market leader position in the industry even it remains its business strategy, indeed, it also can avoid from the wasting of capitals in expanding the business. The next ST strategy is company bears the GST by itself. Due to the strong financial position and cash flows, it able to bear the extra charges by maintaining the selling price of gold jewelries. Thus, it can delight and satisfy the customers directly.
Weaknesses-threat (WT) strategies defensive tactics aimed at reducing internal weakness and avoiding external threats. The first WT strategy is Poh Kong can launch into abroad and new market in order to avoid from the internal competition and high competitive local market situation. There is less opportunities in local market for Poh Kong to expand its business, thus it should expand its business to abroad, identify new opportunities, and target new markets. The next WT strategy is the company should enhance promotion strategies to tackle the problems of low customer satisfaction, high competition in local market, and slowdown of economy. It can provide price discount, conducts advertisements, and improves customer services to customers, so the customers can be delighted and their needs and wants could be satisfied.
6.0 Conclusion
The competitiveness of the Poh Kong Holdings Berhad is the company acts as a leader in terms of innovation in Malaysia's jewelry industry. It was one of the first chained jewelry retailers which operating in Malaysia. Its strongly established brand provides it a great competitive advantage over the less well-established competitors, such as Tomei Consolidated Bhd.
Furthermore, Poh Kong also has strong reputation and strong market position in global market. It is because the company always involve in Corporate Social Responsibility and creates value for their company, shareholders, employees, customers, community and environment. To the employees, they will receive training and development programs to enhance their skills. Besides, the employees are encouraged to volunteer their time for the needed group while Poh Kong will donates daily essentials, foods and cash to charity home in Klang Valley.
Moreover, there are some expectations about the future of the Poh Kong. Nowadays, e-commerce play most important role in the business operation. In order to compete with competitors, it should also focus online trading to its potential customers by providing variety selection of products and accept customized design order from consumer.
Next, due to the global economic slowdown, Poh Kong should establish in those countries which do not adversely affect by economic slowdown, such as Indonesia. It is because Indonesia has a good fundamental economic condition amid the global economic uncertainty.
In addition, Poh Kong should adopts appropriate financial controlling tools which can assist the company in well controlling on cost and operation management, in order to minimize the financial risk. To avoid the company from carrying many liabilities, it should wisely control budget as well. Besides, it also can make a future contract with the materials suppliers. It can fix the price of the materials with suppliers for future purpose due to the unexpected economic fluctuation. Thus, even if the economic crisis happens again, the sales and profitability of the company will not be affected much, and the expected cost of financial distress can be reduced.
(3919 words)
REFERENCES
Ain, F.  (2016). Marketing Plan of Jewellery. Retrieved March 01, 2017, fromhttps://prezi.com/seznxzph61ee/marketing-plan-of-jewellery/
Annual report. (n.d.). Retrieved March 01, 2017, fromhttp://files.shareholder.com/downloads/ABEAÂ Â Â Â Â Â Â Â Â Â Â Â Â  4ZFRFB/2475656551x0x873895/70F896F6-8BEE-47AE-82DDÂ Â Â Â Â Â Â Â Â Â Â Â Â  7EC400A29940/PANDORA_ANNUAL_REPORT_2015.pdf
Annual report. (n.d.). Retrieved March 01, 2017, from http://www.tomei.com.my/data/TomeiAnnual-Report-2015.pdf
Bernama. (2013). Poh Kong. Retrieved March 01, 2017, from
http://english.astroawani.com/business-news/poh-kong-has-no-plans-expand-abroad4394 has no               plans to expand abroad.
Bharl (2016). Habib Jewel Malaysia Marketing Plan. Retrieved March 01, 2017, fromhttps://www.slidesearch.net/slide/habib-jewel-malaysia-marketing-plan-presentation
Bhobe, A. (2014). International Marketing. Retrieved March 01, 2017, fromhttp://www.slideshare.net/bhobeadvait/im-final-2
Cleffairy. (2015). Poh Kong, The European Affair. Retrieved March 01, 2017, fromhttps://www.goodreads.com/author_blog_posts/8450606-poh-kong-the-european-affair
Din, A. (2015).Strategic Analysis of Poh Kong. Retrieved March 01, 2017, fromhttp://documents.tips/documents/poh-kong-draft.html#
Euromonitor. (2015). Jewellery in Malaysia. Retrieved March 01, 2017, fromhttp://www.euromonitor.com/jewellery-in-malaysia/report
Executing Strategy.Ed. Douglas Hughes. New York: McGraw-Hill/Irwin, 2008. C-62-75.
Financial. (n.d.). Retrieved March 01, 2017, fromhttp://markets.ft.com/research/Markets/Tearsheets/Financials?s=POHKONG:KLS
Fmt. (2015).  Consumer Spending Shows Signs of Weakening. Retrieved March 01, 2017, fromhttp://www.freemalaysiatoday.com/category/nation/2015/02/13/consumer-spendingshows-              signs-of-weakening/
Gal, S. (2016). Poh Kong Celebrates 40 Years Style with Fashion Showcase of the Latest AnggunCollection. Retrieved March 01, 2017, from              https://www.malaysianfoodie.com/2016/05/poh-              kong-celebrates-40-years-style-withfashion-showcase-the-latest-anggun-              collection.html#.V5FIRrh97IU
Gupta, S., Polonsky, M., Woodside, A., & Webster, C. M. (2010).The Impact of External Forceson               Cartel Network Dynamics. Direct Research in the Diamond Industry MarketingManagement,               39(2).
Gupta, K. (2014). Porter's Five Forces Analysis of Diamond Industry. Retrieved March 01, 2017,from               http://www.slideshare.net/kritigupta31149/porters-five-forces-analysis-of-diamond              industry?next_slideshow=1
Ida, L. (2015). Retail Sector hit as Malaysians Cut Spending to cope with Rising Prices.Retrieved               March 01, 2017, from              http://www.themalaymailonline.com/malaysia/article/retail-sector-hit-as-              malaysians-cut              spending-to-cope-with-rising-prices
Mehta, M. (2016).Malaysia Aspires to become a World's Major Gold Jewellery Supplier.Retrieved               March 01, 2017, from http://www.hkjm.com.hk/details.php?lang=eng&id=123
Miti. (n.d.). Questions on ASEAN – China FTA.  Retrieved March 01, 2017, fromhttp://www.miti.gov.my/index.php/pages/view/2184
Najumudeen, F. (2012). Jewellery Fit for Royalty. Retrieved March 01, 2017, fromhttp://www.thestar.com.my/news/community/2012/09/01/jewellery-fit-for-royalty/
Nwazor, T. (2016). Is Gold still a Good Investment Today? Retrieved March 01, 2017, fromhttp://www.huffingtonpost.com/toby-nwazor/is-gold-still-a-good              investment_b_9294686.html
Pandora. (n.d.). Pandora. Retrieved March 01, 2017, from https://www.pandora.net/en-my
Poh Kong. (n.d.). Corporate Milestones. Retrieved March 01, 2017, fromhttp://ir.chartnexus.com/pohkong/milestones.php
Poh Kong. (n.d.). Locate Us. Retrieved March 01, 2017, fromhttp://www.pohkong.com.my/locate-us
Poh Kong. (n.d.). Awards and Achievement. Retrieved March 01, 2017, fromhttp://ir.chartnexus.com/pohkong/awards.php
Poh Kong. (n.d.). PohKong. Retrieved March 01, 2017, from http://www.pohkong.com.my/home
Poh Kong. (2014). Annual Report.Petaling Jaya, Selangor.
Poh Kong. (2015). Annual Report.Petaling Jaya, Selangor.
Poh Kong. (2016). Annual Report.Petaling Jaya, Selangor.
PressReader. (2016). Boundless Vitality Gems. Retrieved March 01, 2017, fromhttp://www.pressreader.com/malaysia/the-star-malaysia              star2/20160122/282179355095389
Safiyuddin, F. S. (2015). Strategic Management of Poh Kong. Retrieved March 01, 2017, fromhttp://docslide.us/business/strategic-management-of-poh-kong.html
Sk Jewelry. (n.d.). Sk Jewerly. Retrieved March 01, 2017, from https://skjewellery.com/en/
Smith, K. (n.d.). Is Buying Gold a Good Investment? Retrieved March 01, 2017, from http://www.moneycrashers.com/buying-gold-good-investment/
SooKee. (n.d.). Financial Hightlights. Retrieved March 01, 2017, fromhttps://sookeegroup.com/financial-highlights/
TheStar. (2013). Jeweller Kicks off CSR Programme for Underpriviliged Children. Retrieved March 01, Â Â Â Â Â Â Â Â Â Â Â Â Â  2017, from http://www.thestar.com.my/news/community/2013/04/05/jeweller-kicksoff-csr-Â Â Â Â Â Â Â Â Â Â Â Â Â  programme-for-underpriviliged-children/
Thompson, Arthur A. "Blue Nile Inc.: World's Largest Online Diamond Retailer." Crafting and
Toh, K. I. (2016). Poh Kong sees Steady Demand for Gold as Economy Slows. Retrieved March 01, 2017,               from http://www.thestar.com.my/business/business-news/2016/01/28/poh-kong              cautiously-              optimistic-this-year/
Tomei. (n.d.).
Cite This Work
To export a reference to this article please select a referencing stye below:
Reference Copied to Clipboard.
Reference Copied to Clipboard.
Reference Copied to Clipboard.
Reference Copied to Clipboard.
Reference Copied to Clipboard.
Reference Copied to Clipboard.
Reference Copied to Clipboard.
DMCA / Removal Request
If you are the original writer of this essay and no longer wish to have your work published on UKEssays.com then please:
Related Services
Our academic writing and marking services can help you!
Prices from
AED557
Approximate costs for:

Undergraduate 2:2
1000 words
7 day delivery
Order an Essay
Humanity University
Dedicated to your worth and value as a human being!
Learn More
Related Lectures
Study for free with our range of university lectures!
Freelance Writing Jobs
Looking for a flexible role?
Do you have a 2:1 degree or higher?
Apply Today!
Study Resources
Free resources to assist you with your university studies!